"Daniel Boone Transit Makes it Possible"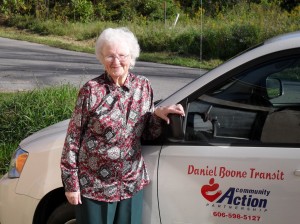 Transit program makes it possible for Olga Johnson to continue working. Olga Johnson will turn 90 years old on November 26th and is currently employed at the Annville Trade Store. She has worked at the Annville Trade Store for the past 28 years. She loves her job because it reminds her of the store she and her late husband owned years ago. About two years ago Olga found herself without transportation to work. Her granddaughter had been driving her to work, but after her granddaughter gained employment, Olga no longer had transportation and didn't know what she was going to do. Olga really wanted to continue working. Olga called Daniel Boone Transit and has been riding the transit to and from work ever since. The fare is affordable at $6.00 per day round trip. Olga said the transit program is a wonderful program that helps so many people and the drivers are very good drivers and very polite.
Olga said that her boss, Jake Moss, has inspired her to keep working and she plans to do so long as she can. Olga works five days per week Tuesday – Saturday, approximately 35 hours per week. Olga said she loves her job and she enjoys seeing the people that shop in the store. The Annville Trade Store is operated by the Jackson County Ministries.
Daniel Boone Transit is operated by Daniel Boone Community Action Agency (DBCAA), a private, nonprofit corporation. The overall purpose of DBCAA is to assist area residents with gaining self-sufficiency. Daniel Boone Transit serves the following counties: Clay, Jackson, Lee, Owsley, and Wolfe.