Former Miner Jesse Hubbard Finds New Career with Help from H.O.M.E. and Daniel Boone JobSight in Clay County
Jesse Hubbard spent more than two decades mining coal underground in Eastern Kentucky. But that career came to a sudden halt in 2019 when Hubbard's most recent job as a section foreman for Rock Hampton Energy ended as a result of the coal industry's continuing downturn.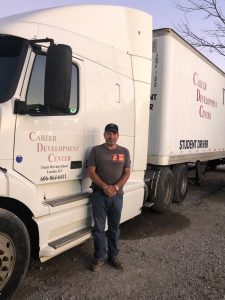 "They just gathered us up one morning and said guys, that's all of it, thank you very much good night," remembers Hubbard, a resident of Clay County.
Hubbard filed for unemployment insurance benefits, but was also aware of the career services available at the Daniel Boone Kentucky Career Center JobSight in Manchester. He decided to try out those services, and it was there that he met Joann Nolan, an expert career advisor whom he credits for helping open new doors for job opportunities that he wouldn't have been able to open on his own.
The Daniel Boone JobSight is located at the Daniel Boone Community Action Agency in Manchester, which provides Workforce Innovation and Opportunity Act (WIOA) career advising services in Clay and Jackson counties under contract with the Eastern Kentucky Concentrated Employment Program (EKCEP), Inc. The services help people re-enter the workforce or upskill to new, better jobs and careers. In addition to assistance to dislocated or underemployed adult workers, the agency also provides workforce services to at-risk youth and area employers.
For Hubbard, who began his career as a miner at 18 and had returned to the industry after multiple layoffs over the years, he says he knew when he was laid off for the last time that it needed to be the last time. He decided then to pursue a career outside of mining.
Hubbard says the first door Nolan helped open was an opportunity to obtain a commercial driver's license (CDL) that would enable him to work for commercial trucking companies. By October 2019, Hubbard had begun that training at Career Development Center in London.
"It wasn't about a week, week and a half that she had me in orientation for the class, and she was ever so helpful in all of that," Hubbard says.
Because of his status as a laid off miner, Hubbard qualified for employment services under Hiring Our Miners Everyday (HOME), a workforce program that provides intensive career advising and opportunities for former miners and their spouses to train for new careers or prepare for new job opportunities. HOME is funded by a National Emergency Grant from the U.S. Department of Labor's Employment and Training Administration, and covered Hubbard's cost to enter the training to become a commercial driver.
By November 2019, Hubbard had obtained his CDL and immediately began looking for work. While he continued a search for jobs that would fit his training, Nolan informed him about an internship program available through the JobSight that would help him receive experience and get his foot in the door with an employer. He agreed, and she placed Hubbard in a maintenance internship at New Hope Counseling and Recovery in Laurel County, where he was eventually hired once the internship ended.
While working at New Hope, Hubbard says he discovered an opening for a CDL instructor at Career Development Center. It was an opportunity that he couldn't pass up, so he applied and received a formal job offer less than a week later.
Today, Hubbard continues to earn his living teaching people the same skills he learned at Career Development Center, from parallel parking rigs to anything else needed to obtain a CDL. It's a position that he says he wouldn't have landed had he never decided to take that first step and pursue a career change, but also if he'd never begun working with his career advisor.
"With a lot of people, and it was the same with me, a lot of people are afraid of change," he says. "Once I stepped forward and said I'm going to change, it just opens a whole lot of doors for you. If you sit at home and say there's nothing around here, nobody is going to knock on your door and ask you, 'Hey do you want a job?' You have to do something for yourself."
And for Hubbard, that something was realizing that he wanted a different career and utilizing resources available to him like the HOME program and the Daniel Boone Kentucky Career Center JobSight that not only provide advice and connect individuals with opportunities, but cover a range of costs from tuition to money for transportation or childcare in some instances. And those are resources he would recommend others in the region take advantage of.
"It will open a whole lot of doors for you," he says.
To learn more about the career and employment services at your local Kentucky Career Center JobSight, visit jobsight.org.
EKCEP, a nonprofit workforce development agency headquartered in Hazard, Ky., serves the citizens of 23 Appalachian coalfield counties. The agency provides an array of workforce development services and operates the Kentucky Career Center JobSight network of workforce centers, which provide access to more than a dozen state and federal programs that offer employment and training assistance for jobseekers and employers all under one roof. Learn more about us at http://www.ekcep.org, http://www.jobsight.org and http://www.facebook.com/ekcep.
—30—